A recipe review for Mini Spice Cupcakes with Cream Cheese Frosting from America's Test Kitchen's The Perfect Cake cookbook: old-fashioned, moist spice cake with a rich cream cheese frosting.
For my fifth bake with The Cake Slice Bakers, I chose a spice cake with cream cheese frosting.  Spice cake brings back memories of childhood.  My great grandma used to make something called a moss cake – it was light and fluffy but had all of the flavors of a traditional spice cake, which is typically denser.  I haven't had it in years, so I thought it was time to try something along those lines myself.  I prefer small-sized desserts to sheet cakes, so I made mini cupcakes instead.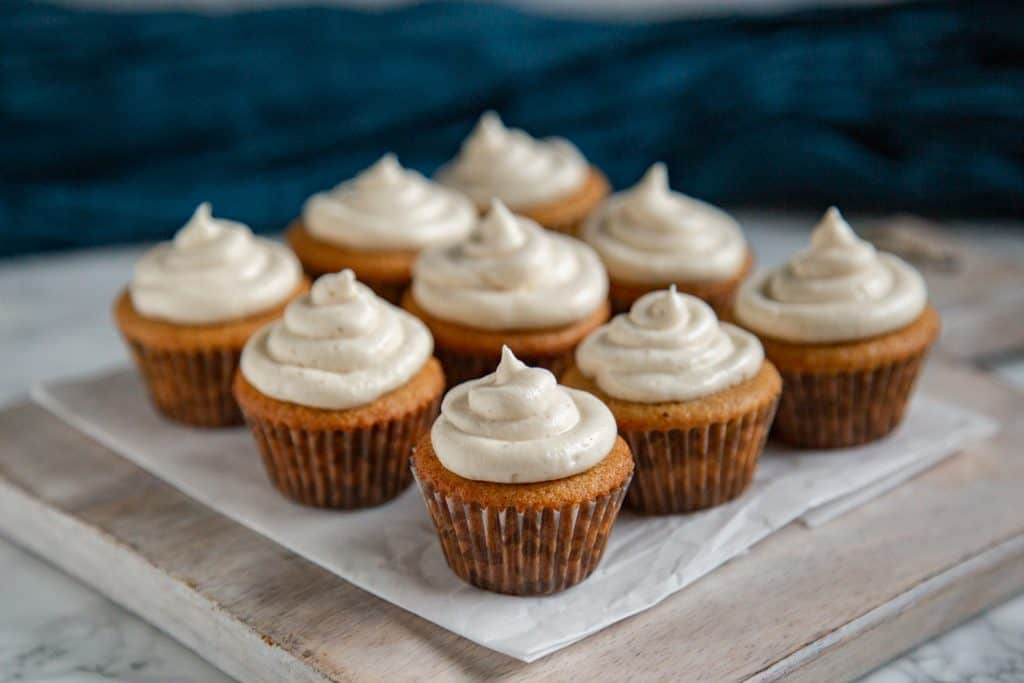 This post may contain affiliate links.  See my disclosure policy here.
The Cake Slice Bakers are food bloggers who bake their way through cake-inspired cookbooks and then share their results with the world.  One of the first things I did after starting my own blog was to ask to join the group. Every month, the group chooses four cakes from a particular cookbook and we all pick one to bake.  We're baking from America's Test Kitchen The Perfect Cake cookbook this year.  I'm using the monthly bakes as a personal challenge – a chance to take on something that I would have previously avoided. 
How to Make Mini Spice Cupcakes with Cream Cheese Frosting
You'll start by blooming the spices in butter.  I've made many savory recipes where you start out by cooking the spices in oil to deepen the flavor – this recipe is the first one where I've used this technique for a sweet recipe.  You'll cook the butter until it's turned brown with a nutty aroma.  Then add in spices like cinnamon, cloves, cardamom, allspice, and nutmeg and cook just briefly.  Allow this mixture to cool completely.
Next, you'll start on the cake.  Whisk together the flour, baking powder, baking soda, and salt.  In a separate bowl whisk together eggs, egg yolks, and vanilla.  Then using a stand mixer, beat together butter, sugar, and molasses.  Add ginger, the butter-spice mixture, and gradually incorporate the egg mixture and dry ingredients.
Then portion out in a 9″ x 13″ pan or mini cupcake pans as I did.  While the cake is baking, make the cream cheese frosting and mix in some of the spice mixtures.  The cake can be made a day or two ahead of time if desired.

How Did the Cupcakes Turn Out?
These cupcakes were really tasty and the frosting was amazing (I love cream cheese anything)!  The addition of the spices to the cream cheese frosting really brought the frosting and the spice cake together.  The recipe makes a ton of mini cupcakes… I had 4 12-cup mini cupcake pans that I filled completely and still had some leftover batter.  This spice cake recipe would be perfect for any fall or winter potluck as either a sheet cake or mini cupcakes.
Where to Get the Recipe
You can find the recipe, along with more foolproof recipes, in The Perfect Cake cookbook from America's Test Kitchen on Amazon.  If you enjoy baking, this will definitely become a favorite cookbook.
For more recipe reviews from this cookbook, check out my other posts here:
 Pear-Walnut Upside-Down Cake

 Blackberry-Mascarpone Lemon Cake

 Apricot Almond Meringue Cake
If you enjoyed this recipe review for Spice Cake with Cream Cheese Frosting from The Perfect Cake cookbook or if you've tried anything else from their cookbook, please comment below and let me know!