A recipe review for Tunnel of Fudge Cake from America's Test Kitchen's The Perfect Cake cookbook: an intense, chocolatey, moist bundt cake with a fudgy interior topped with a rich chocolate glaze.
For my December bake with The Cake Slice Bakers, I decided to try a Tunnel of Fudge Cake.  I baked the cake while visiting my parents and grandfather in Wisconsin over the Thanksgiving holiday.  Since my grandfather loves chocolate, and I like trying out new kinds of cakes, I chose the most chocolatey and unique cake I could find in the cookbook – a retro cake called a "tunnel of fudge."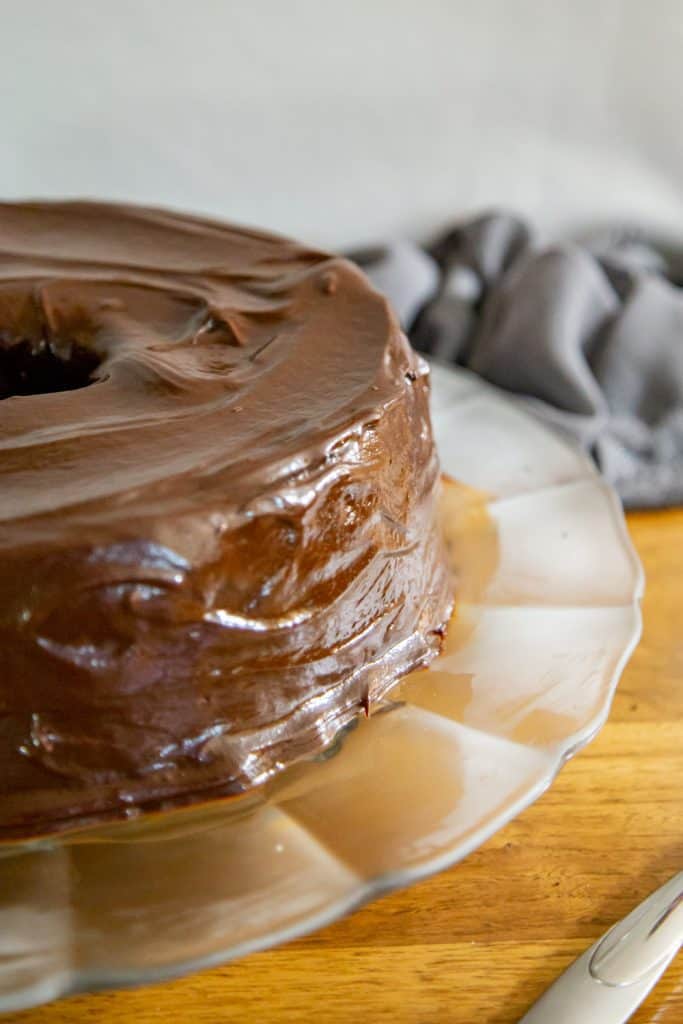 According to the New York Times, the original tunnel of fudge cake won second prize in a Pillsbury Bake-Off Contest in 1966.  It used a Pillsbury icing mix to create the fudgy chocolate center.  The recipe I used from America's Test Kitchen ditches the mix and incorporates melted chocolate in the batter to make the cake moister.  Switching out brown sugar for the typical white sugar used in cakes and lowering the amount of butter and flour leads to a rich, fudgy interior.
How to Make Tunnel of Fudge Cake
Start by lining your pan with a mixture of melted butter and cocoa.  Melt the chocolate with hot water and mix the dry ingredients together (flour, pecans, icing sugar, salt, and cocoa).  In a separate bowl whisk together eggs and vanilla.  Using a stand mixer beat butter, granulated sugar, and brown sugar until fluffy.  Reduce the speed and add the egg mixture until combined.  Add the chocolate mixture and mix until incorporated.  Then add the flour mixture and mix until just combined.
Transfer the batter to the prepared pan and bake until the edges start pulling away from the edge of the pan.  Let the cake cool for 90 minutes, then invert onto a rack, remove the pan, and let it cool completely.  While the cake is cooling, prepare the chocolate glaze by combining cream, corn syrup, chocolate, and vanilla extract.  Drizzle the glaze over the cooled cake and serve.
How Did the Cake Turn Out?
The cake was so good!  Rich, chocolatey, and very unique.  My grandfather enjoyed it (my main goal!) and my parents warmed up leftovers the next day and served it with ice cream, like hot fudge cake.  While making the cake I thought it was going to fail.  I was baking in an unfamiliar kitchen and rushing through so I could finish it up before dark (I prefer doing all of my photos in natural light).  My mother thought she had a bundt pan, but it turned out that her bundt pan was actually an old Jello mold, so I used an angel food cake pan instead.
My favorite part of the whole endeavor was taking the photos with my family's help.  I didn't have my typical food photography setup at my parent's house with my tabletop, white backdrop, and bounce cards perfectly situated by a window, so we had to improvise.  We cleared the dining room table to expose the wood to use as a background.  My mom found a white tablecloth for a backdrop that my dad held taut against a white cutting board to hide the wrinkles.  We used one of my mom's scarves as a pop of color, then my mom held up some white paper to reflect the light.  The process was a family effort and it was a lot of fun to work with them in something I love to do.  Thanks, Mom and Dad!
Where to Get the Recipe
This post contains affiliate links. When you buy through these links, it helps me to continue creating recipes.
You can find the recipe for this tunnel of fudge cake, along with more foolproof cake recipes, in The Perfect Cake cookbook from America's Test Kitchen.  If you enjoy baking, this will definitely become a favorite cookbook!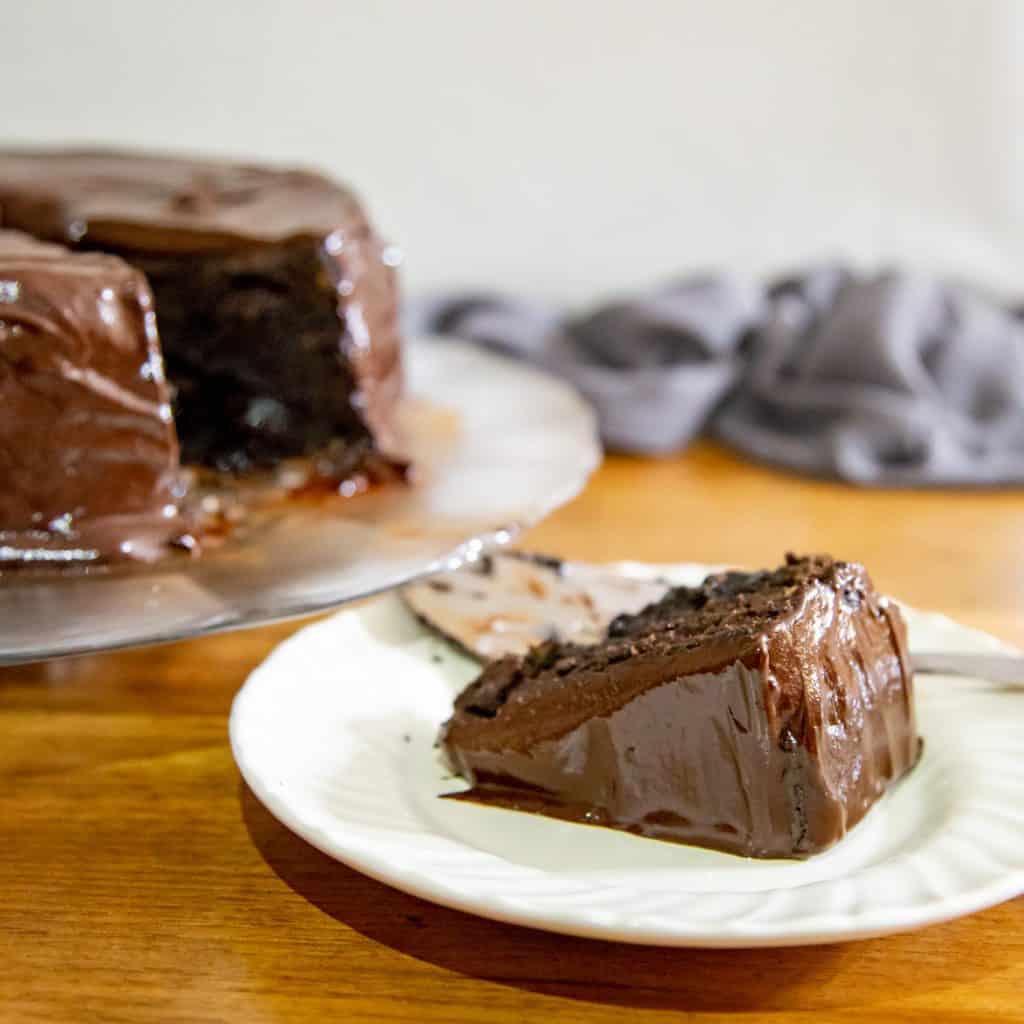 For more recipe reviews from this cookbook, check out my other posts here:
 Mini Spice Cupcakes with Cream Cheese Frosting
 Pear-Walnut Upside-Down Cake

  Smith Island Cake

 Blackberry-Mascarpone Lemon Cake

 Apricot Almond Meringue Cake
If you enjoyed this recipe review for Tunnel of Fudge Cake from The Perfect Cake cookbook or if you've tried anything else from their cookbook, please comment below and let me know!