Sweet mango with sauteed onions and bell peppers, hearty black beans, and quinoa flavored with lime and cumin.  Equally delicious served warm or chilled.
When I lived in Nanjing, China I could easily get amazing, fresh Asian ingredients in markets and produce stands, seemingly on every block.  I miss the freshness of ingredients and the ease of walking past a produce stand on my way home from work and picking up a few things for dinner.  
I cooked a lot of Chinese meals and fusion meals using Chinese ingredients in Nanjing, but sometimes I craved more Western style foods.  One of the things that I often craved was quinoa, which I never found in my local Nanjing stores.  The first time I went home to the US after a year in China I stocked up on quinoa and other ingredients and brought them back to Nanjing in a big heavy suitcase.  One of my favorite recipes merging local ingredients (amazing, fresh mangoes) and food from home (quinoa) is this mango black bean quinoa salad.  It was a perfect light meal for hot, humid summer days in Nanjing, and a great side dish for a potluck.
How to Make Mango Quinoa Salad
You'll start by cooking the quinoa.  Quinoa has a high protein content and a sweet nutty flavor.  I don't love eating it plain, but it's lovely mixed with the right ingredients.  While the quinoa is cooking, saute a diced onion and a bell pepper.  Add the quinoa, onion, and bell pepper to a bowl with a can of black beans, cumin, lime juice, and salt.  Mix well.

Then cut up two mangoes.  I've been eating mangoes since I was small.  The way I learned to cut a mango was to first cut off the sides, directly on either side of the center seed.
For the area around the seed carefully take off the peel and then slice off the fruit and cut into pieces (or just eat around the seed with your hands if the mango is especially good).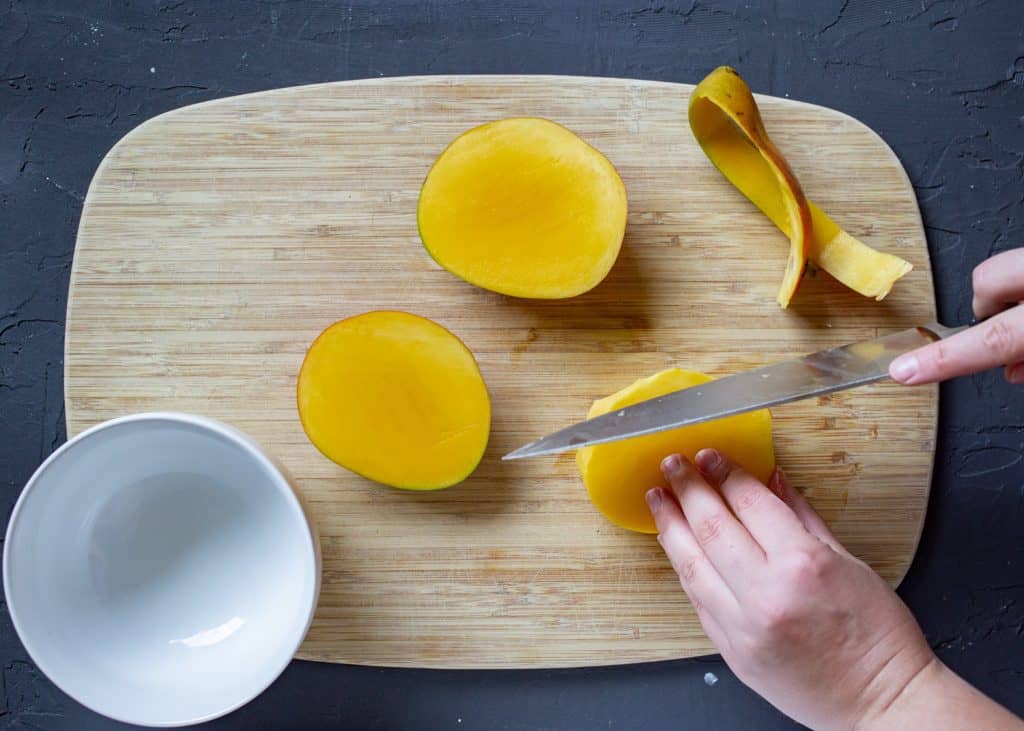 For the two outside pieces gently slice lengthwise and across making a grid pattern – the goal is to not pierce through the skin.  Then using your fingers, gently push each cube off of the skin into a bowl.  Easy peasy.
Add the mango pieces to your bowl and mix gently.  Serve warm or chilled.
If you try this recipe for mango quinoa salad, leave a comment and review below and let me know what you think!
Print Recipe
Mango Quinoa Salad
Sweet mango with sauteed onions and peppers, hearty black beans, and quinoa flavored with lime and cumin.
Ingredients
1

cup

quinoa

2

cups

water

1

tablespoon

olive oil

1

yellow onion

1

bell pepper

15

oz

can black beans

rinsed

1/2

tablespoon

cumin

1/2

tablespoon

lime juice

1

teaspoon

salt

2

ripe mangos or about 1 1/2 to 2 cups presliced

1

green onion

optional
Instructions
Start by cooking your quinoa in a rice cooker using 2 cups water or follow package directions to cook on the stove.

Then dice the onion and bell pepper.  Heat a large nonstick skillet over medium heat, add the olive oil, and saute the onion for about 5 minutes stirring occasionally.  Add the bell pepper and cook for another 5 minutes.  Remove from heat.

Add the cooked quinoa, onion, and bell pepper to a large bowl with the cumin, lime juice and salt.  Mix well.

Cut up your mangos into chunks (see step by step instructions above if you're not familiar with cutting mangos).

Add the mango to the bowl and mix in gently.

If using the green onion, slice thinly.

Serve the mixture warm or chilled with the green onion sprinkled over the top.