A recipe for rich, soft, buttery, garlic-infused pull apart bread – the perfect side for a hearty meal!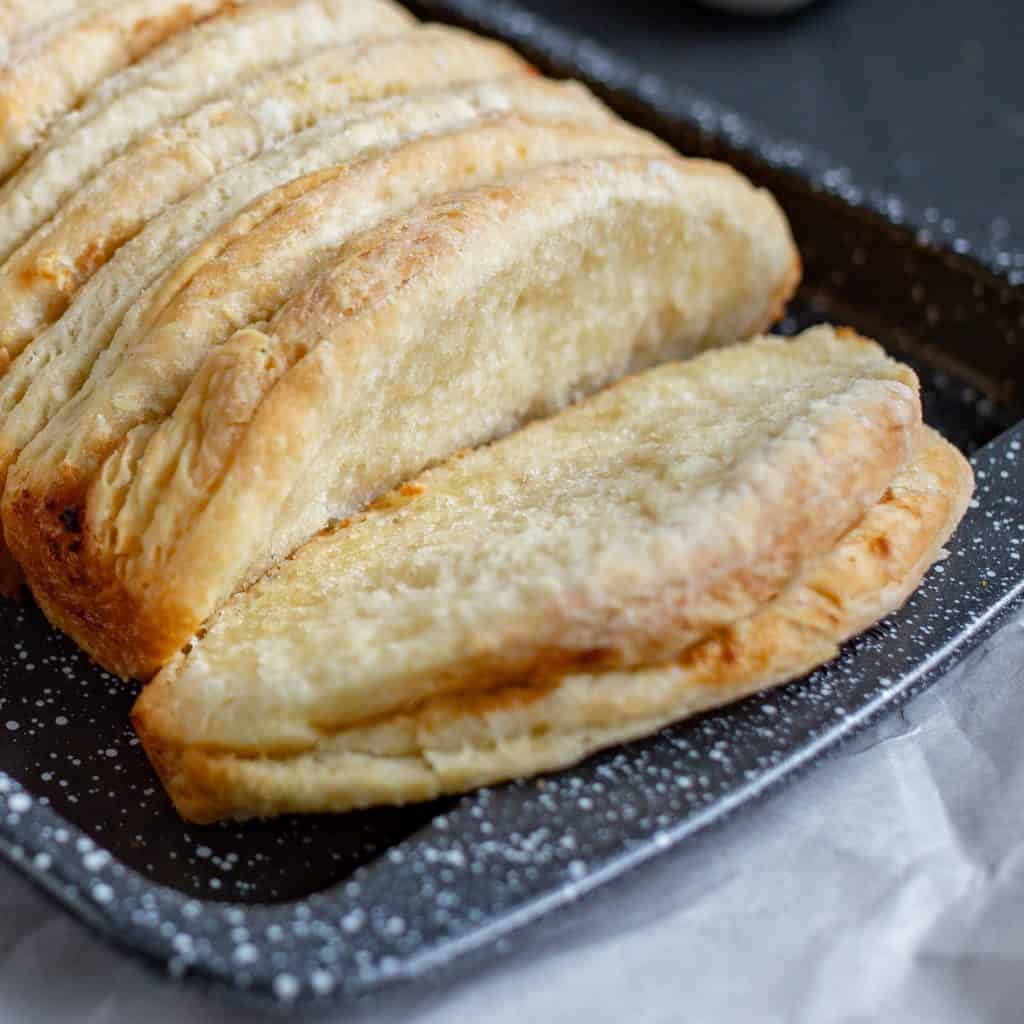 I love the idea of garlic bread, especially when I'm eating pasta or something else with a great sauce, but I'm often disappointed.  The typical garlic bread is often too crunchy for me and lacks flavor.  My ideal garlic bread has more of a bready texture with the flavor of garlic infused in every bite.  One day I saw a recipe for pull apart bread from King Arthur Flour and wondered if I could make a better garlic bread using a similar method.
How to Make Garlic Pull Apart Bread
Pull apart bread looks a lot more complicated than it actually is.  You'll start by melting some butter with milk, sugar, and salt, and allowing it to cool for a bit.
In a large bowl add the flour, yeast, and an egg.  Add the lukewarm butter mixture to the bowl.  I like to use instant or rapid rise yeast for the dough as you don't need the liquid to be the perfect temperature to activate the yeast – but you still don't want the liquid to be so hot that you kill the yeast completely.
Mix gently, then on a floured surface gently knead the bread until it's a bit stretchy and smooth.  Form into a ball and set aside in a warm place for 90 minutes to two hours.  I like to turn my oven on for 30 seconds, turn it off, and then let the dough rise in the oven.  Only do this if your oven started from cold, if you've been using your oven and then turn it off, the temperature is likely too hot for the yeast.
While the dough is rising, make the garlic filling by mixing together softened butter, garlic salt, and plenty of fresh minced garlic.
When the dough is ready, pat it out on a floured surface.  It should be about 1/4 inch thick.  Using a cup or cookie cutter, cut into 3 to 4 inch circles.  The top of a large mason jar is about 3 3/4 inches, this is what I used.  Continue cutting until a majority of the dough is in circles.  I had about 10 circles.
Using a spoon or butter knife, gently spread the garlic mixture onto the dough circles.  Then spray a loaf pan with cooking spray.  Fold the circles together, garlic mixture inside, and place into the pan one by one fold side down.  Cover the loaf pan with plastic wrap and allow to rise for about 90 minutes.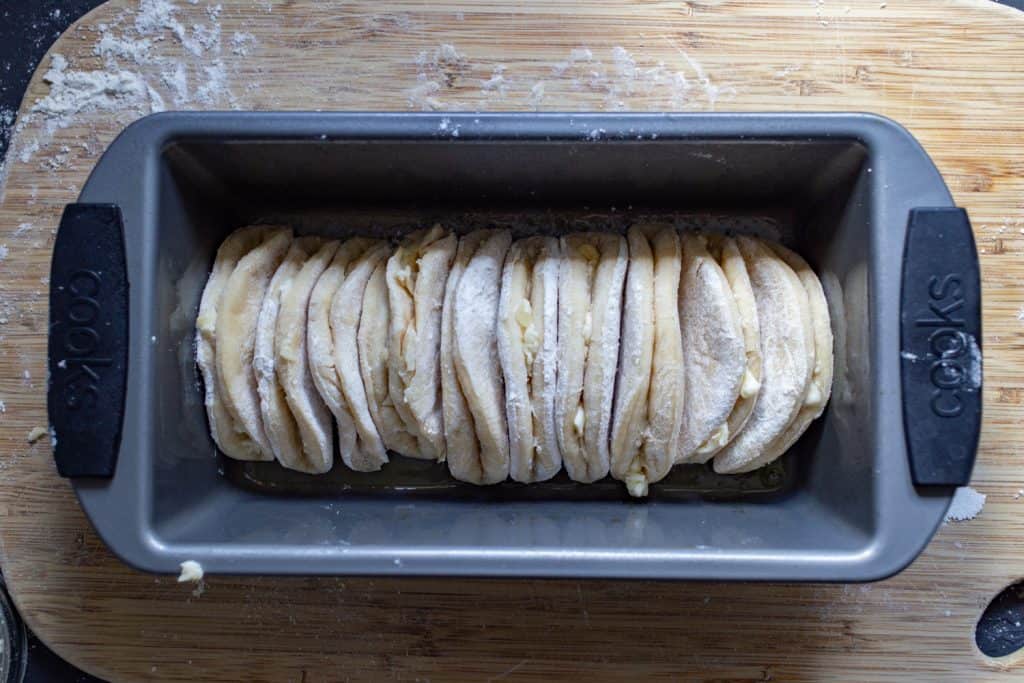 When nearing the end of the 90 minutes, preheat the oven to 350 degrees F.  Bake for 25 to 30 minutes.  Brush the melted butter on the top as soon as you take the bread out of the oven.
Related Recipes
Looking for more baking inspiration?  Try these other recipes:

Homemade New York Style Pizza

Cinnamon Rolls with Cream Cheese Frosting 

Banana Bread Muffins
If you try this recipe for garlic pull apart bread, leave a comment and review below and let me know what you think!  Or pin it here for later.
Print Recipe
Garlic Pull Apart Bread
A recipe for rich, soft, buttery, garlic-infused pull apart bread. The perfect accompaniment to dinner!
Time to Rise
3
hrs
30
mins
Ingredients
Bread
1/2

cup

milk

2

tablespoons

butter

1 1/2

tablespoon

granulated sugar

1

teaspoon

salt

1

large egg

1 1/4

teaspoon

instant or rapid rise yeast

2

cups

all-purpose flour,

plus more for kneading

2

tablespoons

butter,

melted
Garlic Filling
1/3

cup

butter,

softened

2

tablespoons

minced garlic

1

teaspoon

garlic salt
Instructions
In a microwave-safe bowl, combine the milk, butter, sugar, and salt. Heat in 30-second increments until the butter melts. Allow to cool for a minute or two so it's just lukewarm.

Meanwhile, add the egg, yeast, and 2 cups of flour to a large mixing bowl. When the butter mixture has cooled, pour it in and mix together using a spoon. When it starts coming together, then take it out of the bowl and put on a floured counter and knead until smooth. Shape into a ball.

Place the dough in a greased bowl, cover, and let it rise for about an hour and a half to two hours. The dough should puff up quite a bit, but not quite double. I like to turn the oven on for 30 seconds, turn it off, then put the bowl in there. Then no matter how cold our house is, it still rises.

While the dough is rising, mix together the garlic, butter, and garlic salt. Set aside.

When the dough is done rising, place it on a lightly floured surface. Pat it out until it's about 1/4 inch thick. Cut about 3 1/2 to 4-inch circles with a glass or biscuit cutter - the top of a large mason jar is the perfect size. You'll end up with about 9-10 dough circles. If the dough is still pliable, take the dough scraps and form another circle. Discard the remaining scraps.

Lightly grease a loaf pan. The pan I used was about 8.5" by 4.5". Spread the garlic butter on one side of each circle. Fold the circle in half, garlic butter side inside, and place in one end of the pan fold side down. Continue filling up the pan with the rest of the dough.

Cover the pan with plastic wrap. Let it rise for another 90 minutes. When it's close to done, preheat the oven to 350 degrees F.

Take the plastic wrap off the loaf and bake for 25 to 30 minutes or until done.

Remove the bread from the oven and brush with the melted butter. Take the loaf out of the pan and serve warm.