Delicious pan-fried Chinese dumplings filled with shrimp and sweet corn.
Every juicy bite of these dumplings brings me back to early days in China.  I moved to Nanjing, China, for work right after graduating from college.  It was my first time living on my own in an apartment, and it just happened to be halfway across the world from everything I knew.  I arrived in Nanjing, nervous and jet-lagged, with two suitcases packed with all my worldly possessions and was greeted by our office assistant.  She immediately took me shopping for what she deemed should be essentials in my apartment, like sheets, towels, dishes, bottled water, and a rice cooker.  I had a rice cooker growing up, but we didn't use it very frequently and I did not consider it a necessity.  The office assistant assured me that I must have one and helped me pick a unit from the rows of options in the Chinese department store.
I quickly learned that my rice cooker could be used for many things in addition to rice, like steamed vegetables, soups, and my favorite – Chinese jiaozi (dumplings).  In my early days exploring the local grocery store, I found dumplings in the frozen section and they became a staple in my diet.  In China I always used the frozen dumplings, I never tried to make my own from scratch. Now that I live in Nashville it's difficult to find Chinese staples in regular grocery stores, so I needed to learn to make my own.
This recipe uses a dumpling shortcut – won ton wrappers.  You can usually find these in the refrigerated case in the Asian or health food section of the grocery store – at my store the won ton wrappers are right next to tofu.  Nasoya is a common brand that I see everywhere – make sure to get the won ton wrappers and not the egg roll wrappers – they're a completely different size.  I use half of the wrappers for two servings.  You can double the recipe and use all the wrappers if you're serving more people, or store the remaining wrappers in a ziploc bag in the fridge for later use.
You'll start by making the shrimp corn mixture for the filling and getting a water bowl ready.  Then comes the fun and time-consuming part – making the dumplings.  Place a won ton wrapper in your hand and put some filling in it.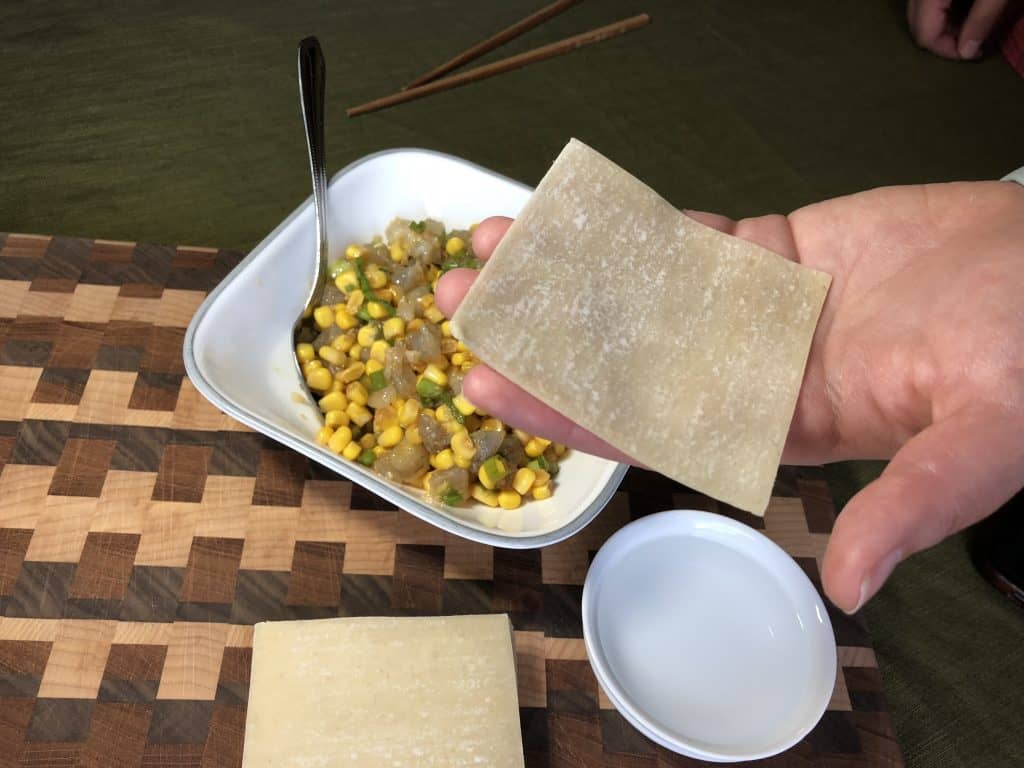 Then wet the edges of the wrapper using your finger.  Fold in half diagonally and seal the edges.
Bring the two far corners of the triangle together to make a half moon shape.  Then repeat for the rest.  The dumplings are best when cooked right away.  I've tried making them ahead, but they got pretty soggy and did not brown as well.

To cook, you'll start by pan frying to get a golden color, then you'll add vegetable broth and steam until the filling is fully cooked.  Enjoy with a soy sauce & rice vinegar dipping sauce.
Leave a comment and review below if you try this to let me know what you think!
Print Recipe
Shrimp and Corn Dumplings
Pan-fried Chinese dumplings filled with sweet corn and shrimp.
Ingredients
2

green onions

8

oz

can whole sweet corn

drained

1

teaspoon

sesame oil

2

teaspoons

fresh ginger

grated

4

tablespoons

soy sauce

divided

4

oz

raw shrimp

peeled and deveined

6

oz

wonton wrappers

1/2 of a nasoya packet

4

tablespoons

vegetable oil

1/2

cup

vegetable broth

1

tablespoon

rice vinegar
Instructions
Cut the green and white parts of the green onions into thin slices.  Place in a medium bowl.  Add the drained corn, sesame oil, ginger, and 1 tablespoon of the soy sauce to the bowl.

Chop the shrimp into small pieces and add to the bowl.  Stir until combined.

Fill a small bowl with water.

Place a won ton wrapper in your hand and add a small amount of filling (about 1/2 tablespoon).  Use your fingers to dab water from the water bowl around the squar.  Fold diagonally and pinch the edges to seal.  Then squeeze the two far corners of the triangle together to make a half moon shape.  Set aside and continue until the won ton wrappers are used up.

Once all of the dumplings are prepared, heat about 2 tablespoons vegetable oil in a large nonstick skillet with a cover over medium heat.  Once hot, add half of the dumplings in a single layer.  Cook for 2 to 3 minutes until a golden crust forms on the bottom.  Swirl the oil around the pan from time to time.  Then add vegetable broth to the bottom of the pan and cover.  Cook for another 2 to 4 minutes until the dumplings are glossy and slightly translucent.  When you think they're ready, take one out of the pan, cut in half, and make sure the shrimp is fully cooked through.

Move the dumplings to a plate and cook the rest of the dumplings using the same steps.

Make a dipping sauce with 3 tablespoons soy sauce and rice vinegar.

Serve the dumplings with the dipping sauce.