A simple recipe for Sichuan eggplant: Creamy cubes of eggplant with a sweet, spicy and savory sauce.
One of my favorite dishes from my years in China is Sichuan eggplant. When I was living in Nanjing, there was a tiny hole-in-the-wall restaurant in an alley on my way home from work that I would stop by frequently for takeout. The restaurant was smaller than my bedroom with the "kitchen" area the size of my kitchen table, yet they still managed to churn out wonderful meals quickly.
I learned some Chinese in college and continued to take lessons in Nanjing, but I was always shy about speaking to strangers in Chinese so it took me months to work up the courage to go into little restaurants like this on my own with staff who only spoke Chinese and no written menus to fall back on.  I was always better at reading Chinese than speaking, maybe because reading gave me time to process my thoughts without letting on what I didn't fully understand.  Once I finally worked up the courage to order from this restaurant, I would get Sichuan Eggplant (鱼香茄子 yúxiāng qiézì) and Kung Pao Chicken (宫保鸡丁 gōngbăo jīdīng) at least once a week for me and my now husband, Alex.
Yúxiāng qiézì literally translates as 'fish fragrant eggplant', a name that I've never quite understood since the dish contains no fish, no fish sauce, and doesn't smell like fish either.  I'm referring to it in English as Sichuan eggplant.  It's made of sautéed or wok-fried eggplant with a sauce that's sweet, spicy and savory.  It would typically be served as one of many dishes at a restaurant or banquet, but I like it so much that I can just eat the eggplant with rice as my entire meal.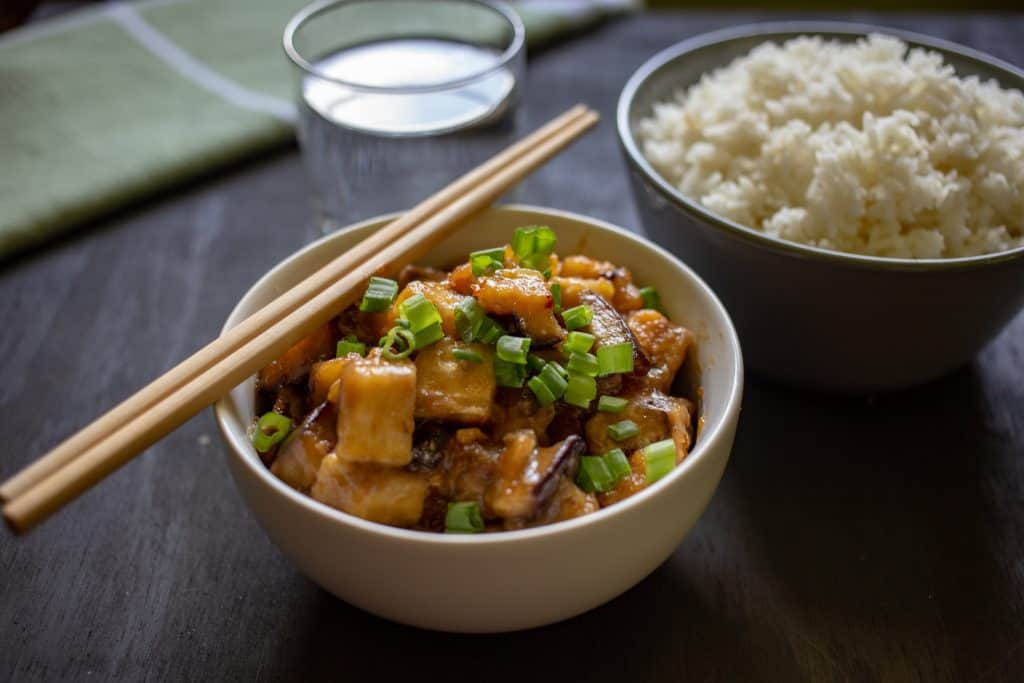 The recipe is simple.  Saute some eggplant tossed in cornstarch until cooked through.  Mix up the sauce, cook for a few minutes until thickened, and then combine the sauce with the eggplant.  Leave a comment and review below if you try this Sichuan Eggplant to let me know what you think!
Print Recipe
Sichuan Eggplant
Creamy cubes of eggplant with a sweet, spicy, and savory sauce.
Ingredients
Eggplant
1-2

medium to large eggplant

1/2

cup

cornstarch

3

tablespoons

vegetable or peanut oil
Sauce
2

tablespoon

sherry

3

tablespoons

soy sauce

1

tablespoon

rice vinegar

1

teaspoon

sugar

1

tablespoon

corn starch

3/4

cup

water

2

tsp

chili garlic paste or chili paste or sambal oelek

1

tablespoon

vegetable or peanut oil

2

tsp

ginger

grated

1

tsp

garlic

minced

scallions

rice for serving
Instructions
Cut the eggplant into 1/2 to 3/4 inch cubes.

In a large bowl combine 1/2 cup corn starch with the eggplant and toss to coat.

Mix the sherry, soy sauce, rice vinegar, sugar, corn starch, water, and chili paste together in a small bowl. Set aside

Heat a large nonstick skillet over medium heat. Add 3 tablespoons vegetable or peanut oil, then add the eggplant and stir occasionally until the eggplant is cooked through, about 7 minutes.

Move the eggplant to a bowl and place the skillet back on the heat. Add another tablespoon of vegetable or peanut oil, then add the grated ginger and minced garlic. Saute for about a minute, then remix the sherry mixture and add to the pan. Saute, stirring frequently, until thickened, another minute. Then add the eggplant and mix until the eggplant is coated by the sauce. Serve with scallions and rice.