A recipe for homemade mushroom empanadas: pastry dough filled with sauteed mushrooms, onions, and thyme, topped with Asiago cheese and baked until golden brown.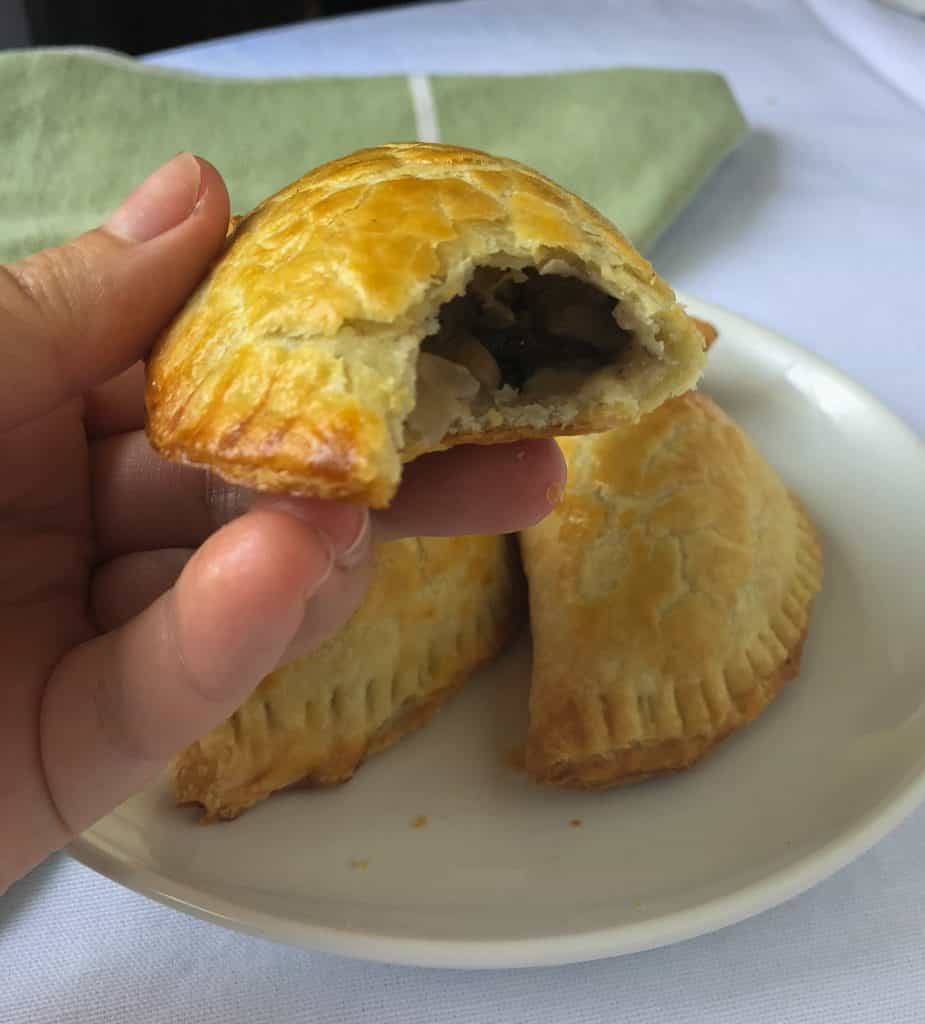 The first time I tried mushroom empanadas was by chance.  My husband and I were in New York City for a Christmas Eve stopover enroute to Paris.  We were wandering around Manhattan in the afternoon looking for a snack when we came across the Winter Village in Bryant Park.  It was an idyllic setting with everything you picture from Christmas movie set in NYC: ice skating, hot chocolate, mulled wine, and many shops and food stands.  One of the food vendors was La Sonrisa Empanadas, serving many unique varieties of this baked or fried treat.  Empanadas are hard to find in Nashville, so I wanted to make my own.

The dough is pretty simple, add the dry ingredients to a food processor then pulse in the butter, egg, and milk.  The filling uses sauteed onions and mushrooms with fresh thyme and Asiago cheese.  The most time-consuming part is rolling out the dough, adding the filling, and then folding over each piece and pinching closed with a fork.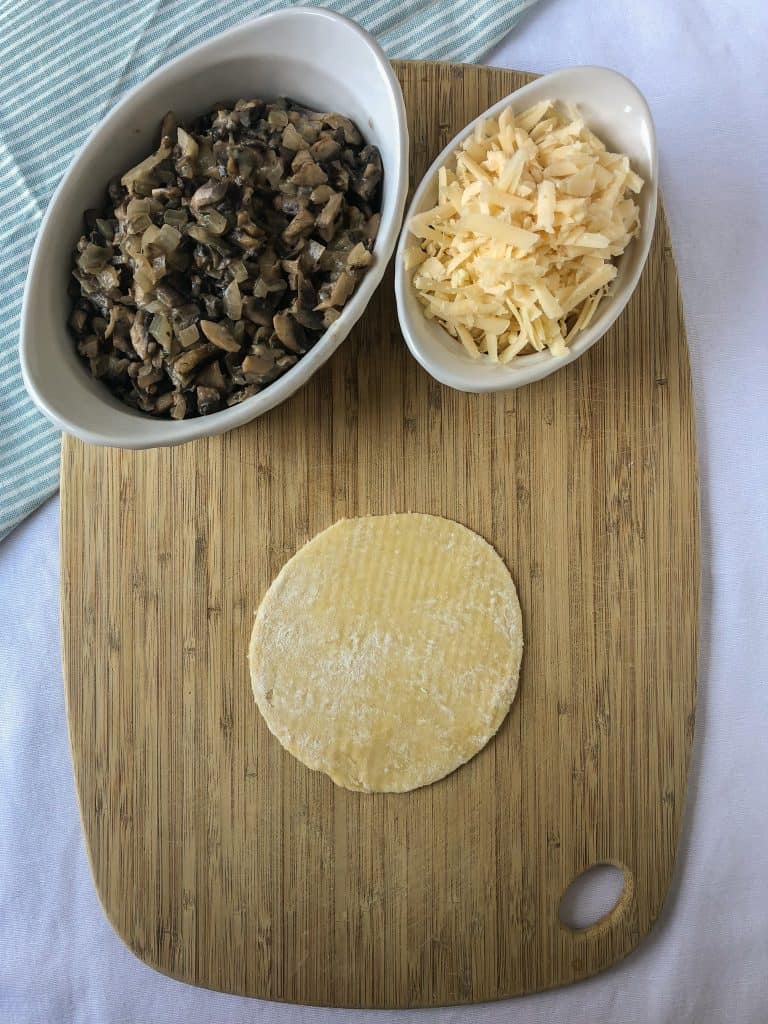 After assembling, place on a baking tray, brush with an egg wash and bake until golden brown.
Print Recipe
Mushroom Empanadas
Delicious, golden brown, homemade mushroom and Asiago empanadas.
Ingredients
Dough
2

cups

all purpose flour

1/4

teaspoon

salt

1/2

cup

butter

1

egg

large

1/4-1/2

cup

milk
Filling
1

tablespoon

butter

1

yellow onion

small

1

lb

white button mushrooms

roughly chopped

1

tablespoon

fresh thyme

stems removed

2

garlic cloves

minced

1/2

teaspoon

salt

1/4

cup

white wine

2

tablespoons

heavy cream

1/2

cup

Asiago cheese

grated

1

egg

large
Instructions
Start by making the dough.  Mix the flour and salt together in a food processor.  Add the butter and pulse a few times until the butter is in small pieces.  Add the egg and then add the milk gradually and continue pulsing until a lumpy dough forms.  If you prefer to make the dough without a food processor, follow the same instructions, but mix all the ingredients in a large bowl with your hands.

Form the dough into a large ball, flatten slightly into the shape of a disk, cover with plastic wrap, and refrigerate until ready to use.

Preheat the oven to 400 degrees.

For the filling, heat a large nonstick skillet over medium heat, add the butter, and saute the onion for about 6 minutes.  Then add the mushroom, thyme, and garlic to the onion and saute for another 5-7 minutes.  Increase heat to medium high and add the white wine, salt, and heavy cream and heat for about 3 minutes, then set aside.

After the filling is ready, take the dough out of the refrigerator and roll the dough into a thin sheet on a floured surface.  Cut out circles shapes (I used a small overturned bowl to trace around with a knife, a large round cookie cutter could also work).

Place the egg in a bowl and lightly beat with a fork.  Using a pastry brush, gently brush the outside 1/2 inch of one of the dough circles with the egg wash.  Place about a tablespoon of mushroom mixture inside, top with some Asiago cheese, and fold the circle over.  Pinch the edges together with a fork, then repeat with the rest of the circles.

Place on a foil lined baking sheet and lightly brush the tops with the egg wash.  Bake for 15-20 minutes or until golden brown.