A puffy, golden brown baked German pancake served with homemade buttermilk syrup.  Breakfast perfection.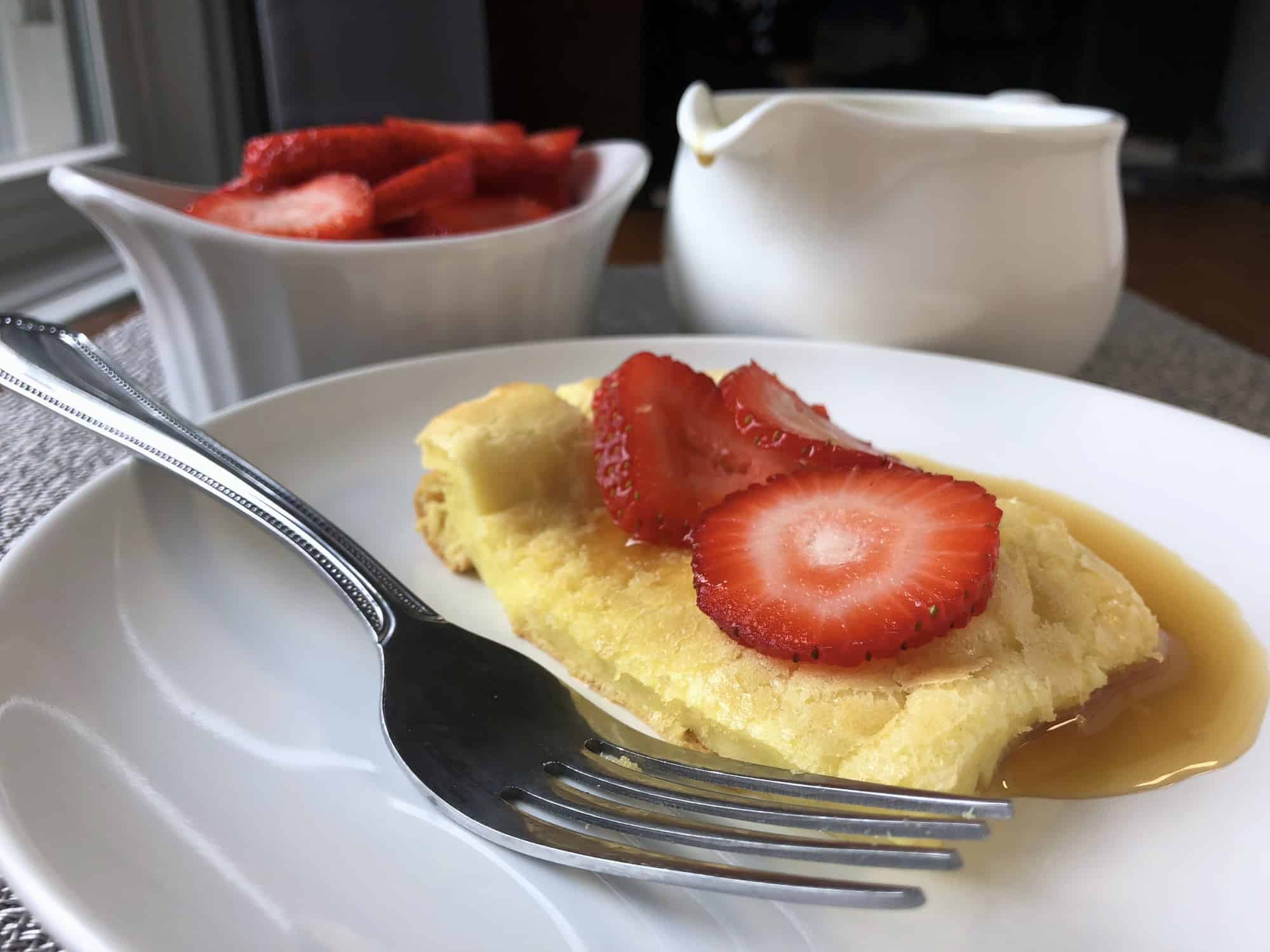 I love to cook meals with exotic spices and international flavors, but sometimes a simple dish really hits the spot.  My family has been making this particular recipe for German pancakes with buttermilk syrup for more than twenty years – it's a family classic.  The recipe is probably our second favorite breakfast next to regular pancakes (see Sunday Morning Blueberry Pancakes).
My older sister made the recipe first, then we kept requesting that she make it again and again.  When my family visited over Easter this year German pancakes was the first thing on the weekend menu.  With my husband out of town for work this weekend, my younger sister stayed over at my house and requested German pancakes for breakfast – I was happy to oblige.
A German pancake, also known as a Dutch Baby, is basically a cross between a pancake, a crepe, and a popover.  The pancake recipe is so easy – just preheat the oven, mix the ingredients in a blender, pour into a pan, and bake until puffed and golden brown.  The buttermilk syrup comes together on the stovetop while the pancake is baking.
Sometimes we'll serve the pancake with fruit or even add fruit to the batter before baking – it's delicious baked with sliced bananas.  You could even skip the buttermilk syrup and go a savory route with bacon or sausage.  Make it your own and maybe you'll have a new family classic on your hands.
Leave a comment and review below if you try this to let me know what you think!
Print Recipe
German Pancake with Buttermilk Syrup
A puffy, golden brown baked German pancake served with a homemade buttermilk syrup.
Ingredients
1/4

cup

+ 2 tablespoons butter

divided

1

cup

all-purpose flour

6

large eggs

1

cup

milk

1/2

teaspoon

salt

6

tablespoons

sugar

6

tablespoons

buttermilk

or 1 1/2 tablespoons buttermilk powder with 6 tablespoons water

2

tablespoons

light corn syrup

1/2

teaspoon

baking soda

fruit for serving
Instructions
Preheat oven to 400 degrees.  Put 2 tablespoons butter in a 9" x 13" pan and place in the oven while it's preheating.

Add the flour, eggs, milk, and salt to a blender and process until smooth.

When the oven is preheated, carefully take out the hot pan and swirl around the now melted butter to coat the pan.  Pour the blender mixture into the pan and bake for about 20 minutes.  It will be done when it's puffed up and light golden brown.

While the pancake is cooking, start the sauce.  Add the sugar, buttermilk, and corn syrup to a medium saucepan with the remaining 1/4 cup butter.  Heat over medium heat, stirring frequently until boiling, then reduce heat to medium low and cook uncovered for about 6 minutes, continuing to stir frequently.  It will bubble and increase in size, then gradually turn a light golden brown.  Remove from heat, add the vanilla, stir, and patiently wait for the pancake to finish in the oven.

Serve the pancake with the buttermilk syrup and fruit of choice.