Delicious vegetarian Aussie sausage rolls: seasoned vegetarian sausage mix wrapped in golden, flaky puff pastry.  I bet you can't eat just one!
I think of sausage rolls as a quintessentially Australian food. Like a lot of my favorite Aussie foods – pavlova, vanilla slice, meat pies, and Freddo Frogs, sausage rolls are difficult to find in Nashville. My dad has made them many times before, but I never learned, so when my family was visiting me in Nashville this spring I asked my dad to teach me how to make them with a vegetarian twist.
Sausage rolls are often served at footy games (Aussie rules football) much like hot dogs at an American baseball game. But they're so much better than hot dogs! Delicious vegetarian sausage wrapped in flaky puff pastry and served for breakfast, lunch, or dinner – you can't really improve on that. This recipe also freezes well, so you can prepare a full batch and freeze some of them before baking to make at a later date.
How to Make Vegetarian Aussie Sausage Rolls
Start by thawing puff pastry following the package directions. Then prepare your filling. Dice an onion and saute for a few minutes, then add garlic, meatless crumbles, and some water to the mixture and cook until the crumbles are heated through. Then you'll combine the onion mixture with an egg, panko bread crumbs, soy sauce, mustard, ketchup, and Vegemite (if using).
After your filling is ready, allow it to cool until easy to handle and start on your puff pastry. The puff pastry from my grocery store started in two 10″ x 15″ rectangles. You'll work with one sheet at a time. Lightly flour your countertop and rolling pin and roll until the puff pastry measures about 15″ x 18″. If it's a bit more or less, it will still work out, it does not need to be exact.
Then cut your 15″ x 18″ rectangle into three equal 5″ x 18″ rectangles. I used a pizza cutter to cut the rectangles. A knife will also work well. You'll start with one of the three 5″ x 18″ rectangles and put about 1/6 of the filling mixture in a row along the center. Roll both edges of the puff pastry around the filling to make a roll.
Pinch the edges together and turn the roll over so the seam side is down. Cut the roll into about 6 slices and place on a baking sheet lined with foil and lightly sprayed with cooking spray.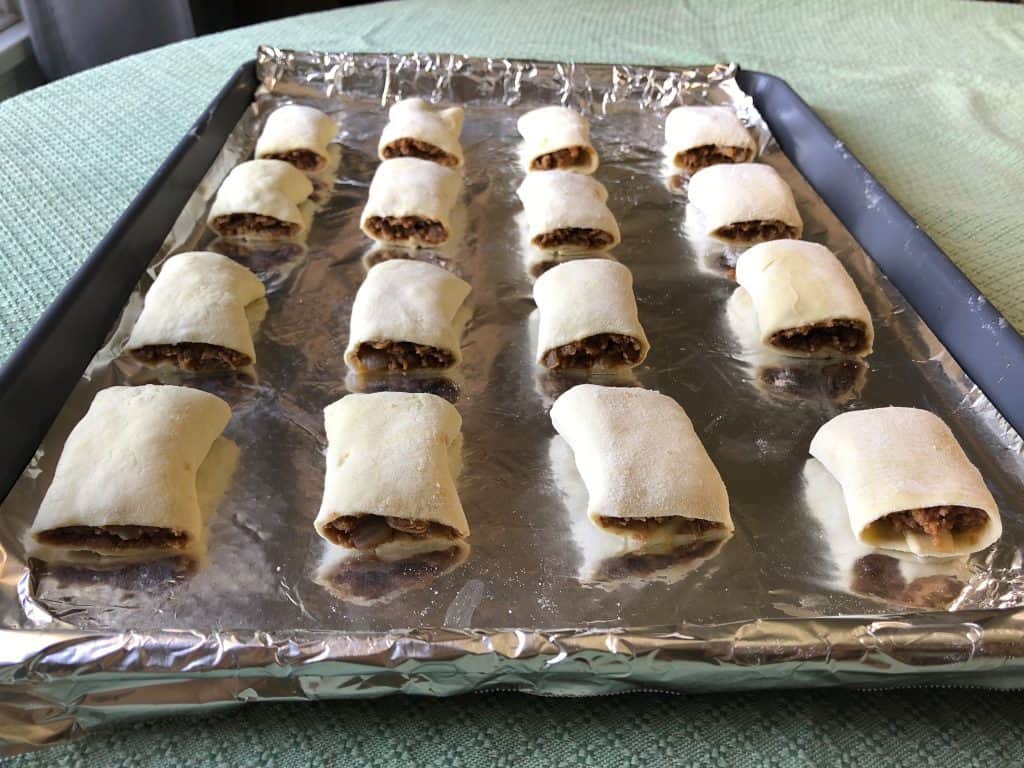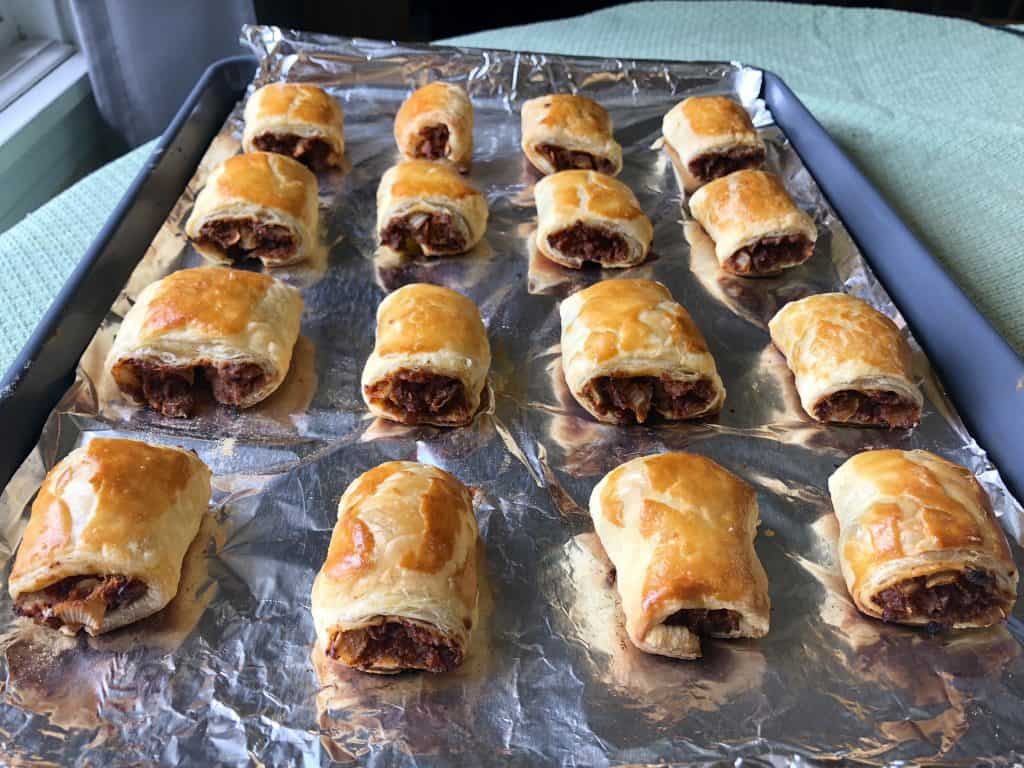 Then repeat with the rest of your puff pastry and filling.  Before baking, lightly beat an egg with a fork in a small bowl and brush on top of the sausage rolls using a pastry brush.
How to Make Ahead of Time
If you want to freeze some of the sausage rolls, wrap your prepared and cut rolls in plastic wrap and place in the freezer.  Then when ready to use, bake from frozen, adding a few minutes to the baking time.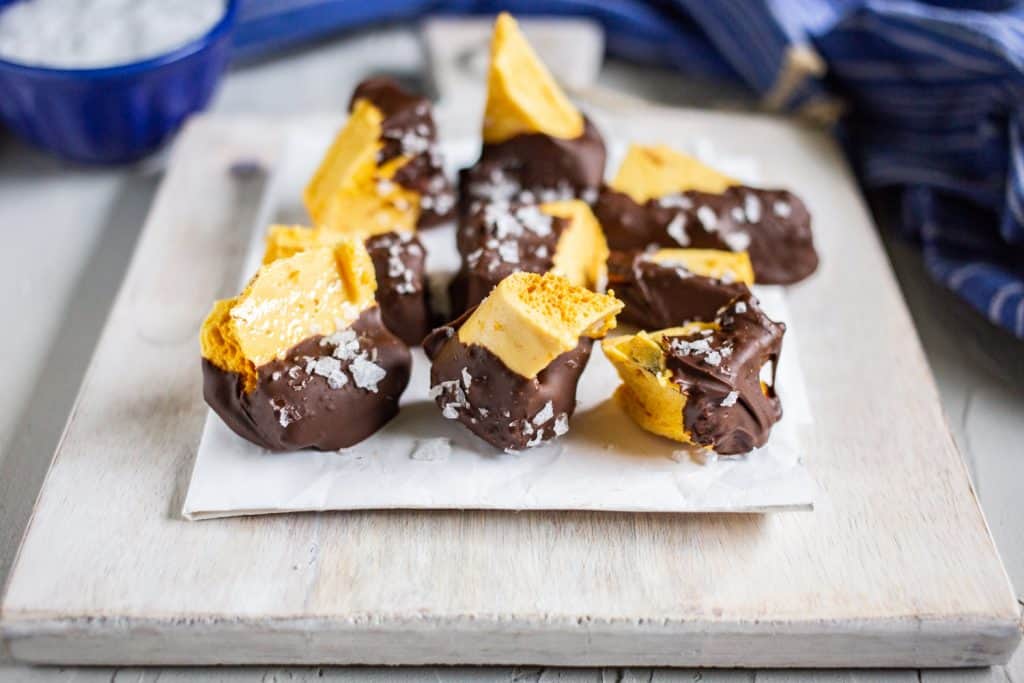 Looking for other Aussie inspired recipes? Try this delicious version of Violet Crumble (aka honeycomb candy). If you try this recipe for vegetarian Aussie sausage rolls, please leave a comment and review below and let me know what you think!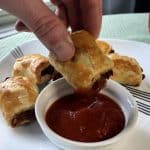 Print Recipe
Vegetarian Aussie Sausage Rolls
Seasoned vegetarian sausage wrapped in golden, flaky puff pastry.
Ingredients
1

package puff pastry

1

white onion

2

tablespoons

butter

2

teaspoons

minced garlic

1 12

oz

package meatless crumbles

I used MorningStar Farms Grillers Crumbles

1/3

cup

water

2

eggs

divided

1/2

cup

panko bread crumbs

1

tablespoon

soy sauce

3

tablespoons

ketchup

1

teaspoon

mustard

2

teaspoons

Vegemite

optional

Ketchup for serving
Instructions
Thaw your puff pastry overnight in the fridge or on the counter for about 30 minutes.

Preheat the oven to 425 degrees.  Cover a baking sheet with foil and lightly grease or spray with cooking spray.  Set aside.

To prepare the filling, begin by dicing the onion.  Heat a large nonstick skillet 0ver medium heat, add butter and the onion and cook for about 5 minutes, stirring occasionally.  Add the garlic, meatless crumbles, and water to the onions.  Cook for another 8 minutes.

Place the onion mixture in a medium bowl.  Add 1 egg, panko bread crumbs, soy sauce, ketchup, mustard, and Vegemite.  Mix well.  Allow to cool.

While the filling is cooling, prepare the puff pastry.  Flour a countertop, place one puff pastry sheet on the floured surface.  The sheets start as 10″x 15″, with a floured rolling pin, roll to about 15″ x 18″.  Cut the sheet into thirds (a pizza cutter is helpful for this) that measure about 5″ x "18 each.

Place about 1/6 of the filling in the middle of one of the rectangles.  Gently bring both edges of the sheet together to form a roll and press edges together.  Roll over so the seam is facing downward.  Cut the roll into about 6 pieces.  Gently place on the baking sheet with foil leaving an inch or two between each piece so they can rise.

Repeat the steps for the rest of the pieces.  You'll likely have to bake in 2 or 3 batches in the oven, so don't try to fit them all on one tray.

To make your egg wash, place your remaining egg in a small bowl and beat with a fork.  Set aside.

When your baking sheet is full, gently brush each roll with the egg wash and bake for 18-20 minutes until golden brown.  Serve with ketchup.