This recipe for rich and creamy tofu tikka masala with sauteed onions brings Indian flavors home for an easy and flavorful dinner!
My first time cooking with cardamom was in an Indian cooking class.  We made chicken tikka masala and malai kulfi, an Indian ice cream.  I was immediately taken by the strong, intensely aromatic flavor of cardamom and was impressed with its versatility and ability to cross into both sweet and savory territory.  The closest I've been to India are the flavors of Indian restaurants around the world and the photos and stories from friends.  Even though I haven't been to the subcontinent, I'm intrigued by the rich flavors and spices in Indian food and love to experiment with them at home.
How to Make Tofu Tikka Masala
This post contains affiliate links. When you buy through these links, it helps me to continue creating recipes.  See my disclosure policy.
Start by sauteeing cubed tofu in a large nonstick skillet over medium heat.  If you want to use paneer or chicken instead, cook it now.  Then set the tofu (or paneer or chicken) aside.  Place the skillet back on the burner and add some vegetable oil.  Add cardamom pods, cumin seeds, a cinnamon stick, and bay leaves.  To the spices, add onions, garlic, and ginger and cook until softened and brown.
Then add crushed tomatoes, salt, and cayenne for a little kick of spice (skip the cayenne if you prefer milder flavors), reduce the heat, and simmer for about 20 minutes. Finally, add garam masala, yogurt, and cream and mix through.  Then mix in the tofu and serve with basmati rice or naan.  To make this vegan, just use vegan cream and yogurt for the final steps.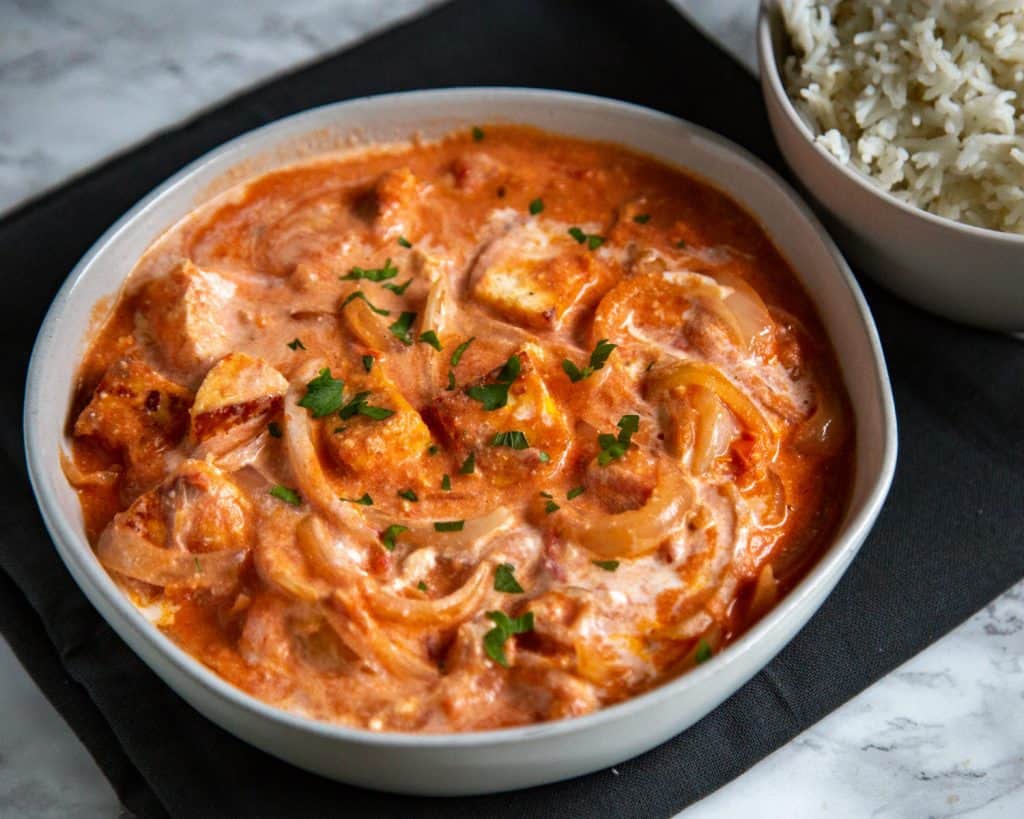 Looking for more flavorful, vegetarian dinners?  Try this Vietnamese Noodle Bowl, Sichuan Eggplant, or Instant Pot Enchilada Rice.  If you try this recipe for Tofu Tikka Masala, leave a comment and review below and let me know how it worked out for you!
Print Recipe
Tofu Tikka Masala with Sauteed Onions
A flavorful, spicy, creamy tomato gravy with sauteed onions and tofu.
Ingredients
3

tablespoons

vegetable oil

divided

14

oz

extra firm tofu

or protein of choice

6

cardamom pods

1

teaspoon

cumin seeds

1

cinnamon stick

2

bay leaves

2

yellow onions

medium

1

teaspoon

ground ginger

6

garlic cloves

finely chopped

28

oz

crushed tomatoes

1

teaspoon

salt

1/2

teaspoon

cayenne pepper

optional

1/2

teaspoon

garam masala

6

tablespoons

plain yogurt (use plant based yogurt to make this vegan)

6

tablespoons

heavy cream (use plant based cream to make this vegan)

Basmati rice

for serving
Instructions
Cut the tofu into cubes (or substitute protein of choice here).

Add 1 tablespoon vegetable oil to a large nonstick skillet and heat over medium heat. Add the tofu in a single layer. Cook for about 8-10 minutes until golden brown. Move the tofu to a bowl and place the pan back on the stove.

Add an additional 2 tablespoons oil to the pan and heat over medium-high heat. When hot, put in the cardamom, cumin seeds, cinnamon stick, and bay leaves. Stir for 1 minute to allow flavors to develop, then add the onions, garlic, and ginger. Reduce heat to medium and cook until onions start turning brown, about 10 minutes.

Add the tomatoes, salt, and cayenne.  Reduce heat to medium-low, cover, and simmer for 20 minutes, stirring occasionally.

Remove cover and add garam masala, yogurt, and cream. Stir gently for about 5 minutes to reduce the liquid. Remove the cardamom pods, cinnamon stick, and bay leaves before serving. Serve with basmati rice or naan.