Looking for some Thanksgiving menu inspiration?  You've come to the right place!  Here's a collection of vegetarian Thanksgiving recipes from side dishes to main dishes and desserts along with some tips for accommodating vegetarian guests.
Thanksgiving is almost here, can you believe it?  If you've been wondering what to serve the vegetarians at your Thanksgiving table, this post is for you.  I'm a pescatarian (meaning that I eat seafood but not meat), but since no one serves seafood at Thanksgiving, that means I eat vegetarian for the holiday.

Tips for the Thanksgiving Meal
Don't worry about having a meat-like substitute for a vegetarian main dish (I'm talking about things like Tofurky).  For many vegetarians, their favorite part of the meal was always the sides – mac and cheese, roasted green beans, mashed potatoes, and cranberry salad.  Just make sure there are a variety of vegetarian sides that both the vegetarians and meat eaters will enjoy and your vegetarian guests will be happy!
The main culprit in making seemingly vegetarian dishes not vegetarian is meat broth.  Make sure to use a vegetable-based broth for anything you're trying to make vegetarian – like the stuffing, gravy, etc.  Better than Bouillon makes fantastic vegetable broth – my favorite flavors are the Vegetable, Garlic, and No Chicken jars.  Also, watch for gelatin in desserts or sides like cranberry salad.
If you're stuffing your turkey, keep a small casserole dish of stuffing out of the turkey for the vegetarians.  You may need to add a tad more liquid than normal to keep it moist.
Let your guests know what is vegetarian.  There have been many meals where I avoided foods like stuffing or baked beans that may have been vegetarian, but I wasn't sure if they had meat broth, bacon, or sausage and I didn't want to risk making the host feel uncomfortable by asking.
Enjoy the day and don't stress too much about the meal.  I've had Thanksgivings where I spent so much time planning the meal, cooking, and baking, that the meal itself was a letdown.  Don't let this be you!  Enjoy the cooking and baking and don't feel guilty buying some premade sides or asking guests to bring something to complete the meal.
Now to the roundup of vegetarian dishes with a few desserts thrown in at the end, because dessert is always the best part of Thanksgiving, no?
Vegetarian Main Dishes
Butternut Squash Lasagna
Layers of roasted butternut squash, creamy Alfredo sauce, lasagna noodles, ricotta, and spinach combine with a gooey, cheesy topping for a hearty vegetarian main course that even meat lovers will enjoy.  Recipe here.
Mushroom Galette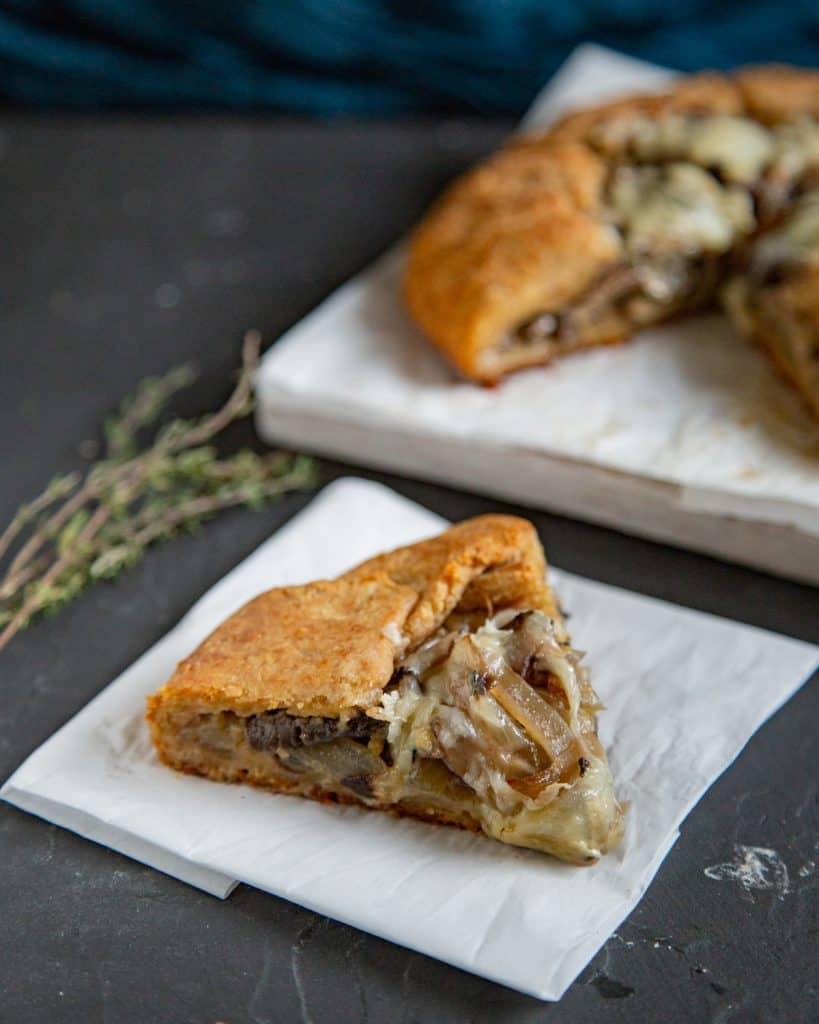 A beautiful, free-form mushroom galette with a gruyere white whole wheat crust – the perfect vegetarian main dish.  Recipe here.
Quinoa Stuffed Acorn Squash Rings
Roasted acorn squash rings filled with protein-packed quinoa, dried apricots, sliced almonds, mustard, and maple syrup.  Sprinkle with pomegranate arils for a sweet pop of color!  Gluten-free with an option to make it vegan.  Recipe here.
Instant Pot Mac and Cheese
Free up your oven space by making this mac and cheese in an Instant Pot.  This creamy, smoky, flavorful recipe turns all of the tasty, mouthwatering goodness of traditional baked mac and cheese into an easy vegetarian main dish.  It was inspired by my favorite mac and cheese recipe from a local Nashville restaurant.  Recipe here.
Vegetarian Side Dishes
Green Beans with Caramelized Onions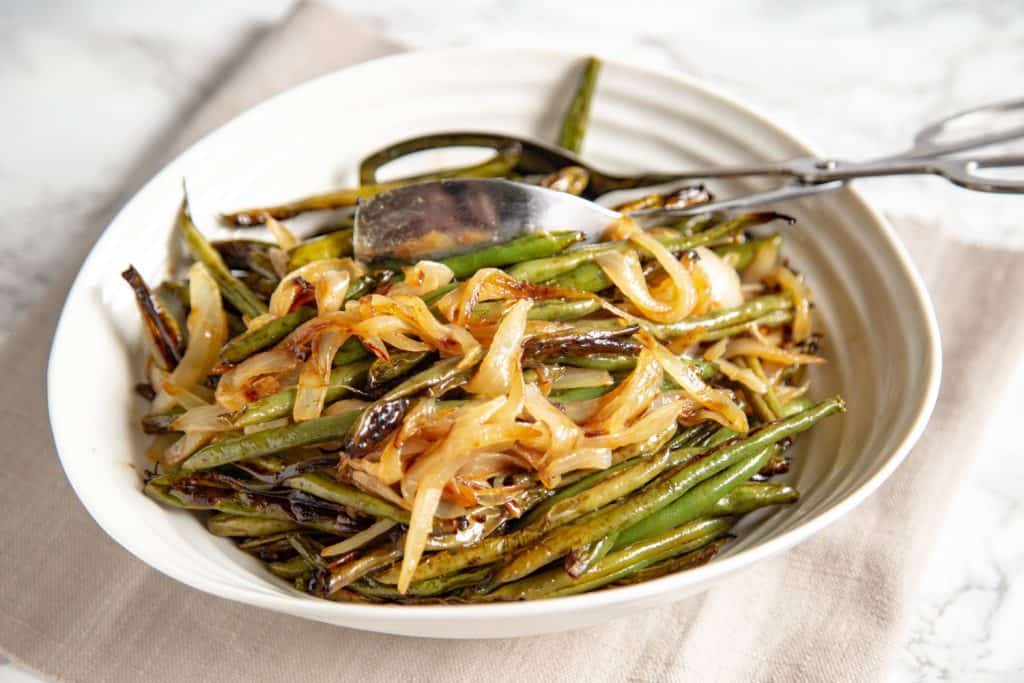 Oven-roasted green beans covered with beautifully caramelized onions – the perfect combination of veggies and naturally vegetarian and gluten-free.  Vegan if made with oil or margarine instead of butter.  Recipe here.
Vegetarian Mushroom Gravy
Smooth, creamy mushroom gravy packed with flavor and perfect for mashed potatoes or turkey.  This gravy can even be made a few days in advance!  Vegetarian with options to make it vegan or gluten-free.  Recipe here.
Instant Pot Cheesy Carrots and Parsnips
Another recipe to free up oven and stove space.  Steamed carrots and parsnips with a rich, creamy, cheesy sauce.  The perfect side dish for vegetarians and meat eaters alike.  Recipe here.
Garlic Pull Apart Bread
A recipe for rich, soft, buttery, garlic-infused pull apart bread – the perfect side dish for Thanksgiving! Recipe here.
Fun Desserts for Thanksgiving
Pumpkin Cream Puffs
Classic choux pastry puffs filled with a sweet pumpkin cream cheese filling.  Fun and bite-sized, so you can have more than one!  Recipe here.
Mini Caramel Apple Cheesecakes
Mini cheesecakes with an apple and streusel topping and drizzled with homemade caramel sauce… the perfect combination of fall ingredients for Thanksgiving!  The mini size makes them easy to serve.  Recipe here.
Mini Carrot Cake with Whipped Cream Cheese Frosting
A flavorful, spiced mini carrot cake with fluffy, whipped cream cheese frosting.  Recipe here.
Gingersnap Cookies
A recipe for crispy, spicy gingersnap cookies infused with molasses, cloves, cinnamon, and two forms of ginger.  Not a traditional Thanksgiving dessert, but filled with the perfect flavors and spices for the season!  Recipe here.