An easy recipe for flavor-packed vegetarian Swedish meatballs. Top with vegetarian gravy and serve with mashed potatoes and cranberry sauce for a delicious dinner!
IKEA is the only place I've ever had Swedish meatballs. My favorite IKEA experience was in Nanjing, China when I was living there. It was out in the suburbs, as most IKEA's are, and required a long trek on the subway, but the time to get there was totally worth it. It felt like a taste of home to have minimalist furniture styles that I love along with a Western-style cafeteria complete with Swedish meatballs with lingonberry jam and gravy.
Now that I live in Nashville I'm no longer near an IKEA (I keep hoping they'll open one up here!) but I still crave Swedish meatballs, so I came up with a vegetarian version that I can make at home whenever I want. I love to serve these with vegetarian gravy, mashed potatoes, and cranberry sauce.
How to Make Vegetarian Swedish Meatballs
These vegetarian Swedish meatballs are pretty simple. I use lentils for protein, mushroom for texture, ricotta to make them creamy, and oats and eggs to hold them together. Add in some great spices and flavorings and you're set!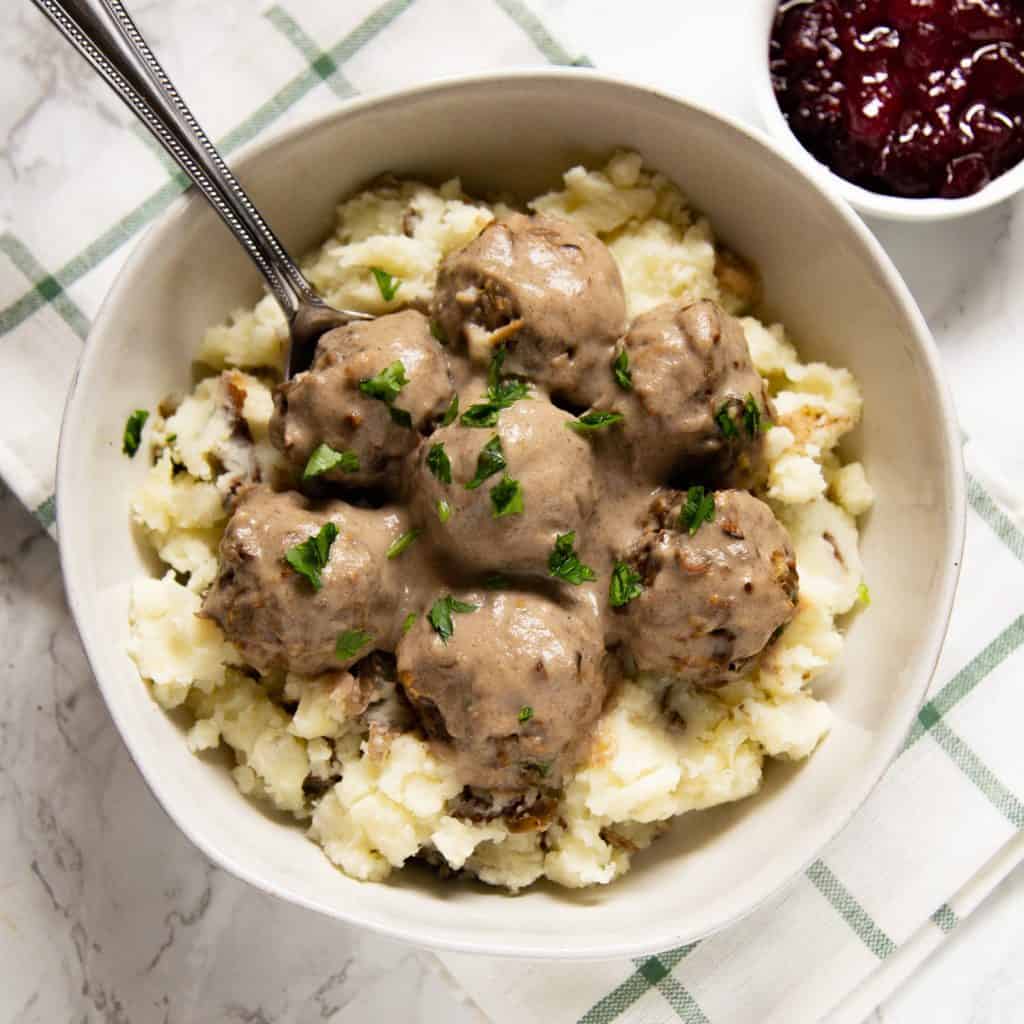 Start by cooking the lentils. Add some water to the lentils in a medium saucepan and bring to a boil. Then cover and reduce the heat. Simmer till the lentils are tender and drain any excess water.
While the lentils are cooking, chop up some onion, mushrooms, and parsley. Add it all to a big bowl along with minced garlic, garlic and onion powder, crushed red pepper flakes, salt, oats, eggs, ricotta, soy sauce, and mustard. Add the lentils when they're done and mix it all together.
Portion out the meatball mixture into heaping tablespoons and roll into balls. Place on a foil lined baking sheet sprayed with cooking spray and bake at 425 degrees F for 16 to 20 minutes until firm to the touch.
Looking for more vegetarian dinner recipes? Try this Peanut Sauce Tofu, Vegetarian White Bean Chili, or Instant Pot Enchilada Rice. If you try this recipe for Vegetarian Swedish Meatballs, leave a comment and review below and let me know how it worked out for you!
Print Recipe
Vegetarian Swedish meatballs
Ingredients
1

cup

dry lentils

(3 cups cooked)

3

cups

water

8

oz

mushrooms

1

large onion

1/4

cup

fresh parsley

1

garlic clove

1/2

teaspoon

garlic powder

1/2

teaspoon

onion powder

1/2

teaspoon

crushed red pepper flakes

1/2

teaspoon

salt

1

cup

quick oats

3

large eggs

1/2

cup

ricotta

2

tablespoons

soy sauce

3

teaspoons

dijon mustard
Instructions
Cook the lentils on the stovetop by bringing 3 cups of water and 1 cup of dry lentils to a boil in a medium saucepan, cover, reduce the heat to medium low, and simmer until the lentils are tender. This typically takes 15-20 minutes. Drain any excess water.

While the lentils are cooking, finely chop the mushrooms, onions, and parsley and place all in a large bowl. Mince the garlic and add to the boil. Then combine the rest of the ingredients except the olive in the bowl. When the lentils are done, add them to the bowl as well and mix together well with a fork.

Cover two baking sheets with foil and spray lightly with cooking spray (or bake in two batches). Portion out the meatball mixture in heaping tablespoons and shape into a ball. Place on the baking sheet, leaving about an inch between each.

Bake for 16-20 minutes until firm to the touch.